हे जी रे.. (4)
हे..
रामचंद्र कह गए सिया से (2)
ऐसा कलयुग आएगा
हंस चुगेगा दाना तुन का (2)
कौआ मोती खाएगा
हंस चुगेगा दाना तुन का
कौआ मोती खाएगा
हे जी रे..
फिल्म : गोपी (1970)
संगीत दिया है: कल्याणजी-आनंदजी
गीत के बोल: राजेंद्र कृष्ण
गायक: महेंद्र कपूर
Apple music link to the song: https://music.apple.com/in/album/ramchandra-kah-gaye/1352497375?i=1352498126
Would Dilip Kumar while filming the song have thought that 51 years later, a relatively unknown, slightly overweight, average looking 36 years old from the cage of his residence in Gurgaon, would borrow from his song to attempt succinctly summarizing the India of 2021? Perhaps, not. And yet, here we are!
Who would have thought that a nation whose founding fathers back in 1947 cobbled 552 princely states, (the balance got included in the Indian republic subsequently) and the provinces under British control together, a landmass which housed not just the most impoverished 31,86,60,000 people (1941 census) but also 1/8th of humanity; masses barely educated, with a literacy rate of just about 12%; would have shown the farsightedness of including 'scientific temperament' in its founding document, and yet they did. The first PM of this country and also the one to have got elected the most number of times till date (3 straight terms) made sure that India got premier institutes of science like IITs, AIIMs alongside laying the foundation for reasoned enquiry, data-based decision making and statistical analysis, by instituting various census and surveys as an effective arm of the government. India has achieved quite a bit in the last 74 years, it is a thriving country with an active and alive democracy (though under serious existential threat for the last 7 years) but she could not do enough to rid herself of her 'unscientific approach', deep-rooted backwardness and moronic entanglement and fascination with anything resembling 'spirituality or ancient Indian tradition'.
Needless to say, we are paying a heavy price for it in these pandemic times. Society is naively and naturally falling prey to misguided and downright unlettered suggestions, being made by those in power. Reproducing a few for you here to familiarize you with the degree of the absurdity of these statements from the ruling party of the day.
BJP MP Pragya Singh Thakur believes that drinking Cow urine will cure Covid-19. The lady in the past has also claimed that she cured herself of cancer with Cow Urine!

BJP HRD Minister Pokhriyal denounces the theory of evolution, he says that 'no one has seen a money turn into a man'!

BJP Culture Minister for MP, Usha Thakur proposed 'yagna chikitsa' for preventing the 3rd wave!

BJP MoS of health and family welfare Ashwini Kumar Chaube had suggested that standing in the sun for 10-15 minutes every day will kill the Covid virus!

Lifelong RSS prachhakar, BJP karyakarta and current PM Modi put forward the instances of Karna from Mahabharta and Lord Ganesha's trunk to suggest that cosmetic surgery and reproductive genetics were in use in India thousands of years ago!

BJP Union minister of railways Piyush Goyal is confused about who discovered gravity, he also believes that mathematics did not play a part in the discovery of the said physics principle.
The theatre of the absurd does not end there. The satellites of supporters orbiting the 'political narrative' of the BJP almost involuntarily, have also paid their dues in furthering the cause of utter nonsense'.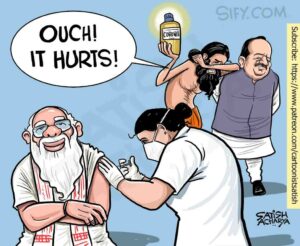 As ludicrous and crackpot as it may sound, in India lead by Fakir Narender Modi (मेरा क्या हैं मैं तो फ़क़ीर हूँ जी झोला उठा के चला जाऊँगा, words of the honourable PM) of 2021, qualified and respected doctors are being forced to defend 'the science of allopathy and modern medicine' by arguing with a saffron-clad self-styled Ayurveda and Yoga guru with questionable past, who did not even complete his primary education; in TV studios, at a time when the world is reeling under Pandemic and India has emerged as a hotspot of the world, recording the most number of cases and deaths. What is even more grotesque is the fact that he seems to be winning the battle thus far. Poor doctors, who studied their lungs out, wrote an all India entrance exam, qualified in it, studied medicine for a minimum of 6 years and a max of 15, stand 'assailable' in the world of narrative.
You may wonder why I pronounce Baba the winner in the fight, at least thus far? Here is why.
Baba openly and publicly lampoons the whole science of modern medicine in the most scurrilous tone imaginable, and yet continues to roam free. He floats his pronouncements on Youtube and other social media platforms, where he enjoys a thick follower base.

The quack has bought about 20% (approx) of all advertisement slots on all popular commando comic news channels (a term originally coined by Shekhar Gupta of the print to describe BJP propaganda news channels). Advertisements for his products are flashed even on debates that they organise to banish some of his fallacious claims. Such is the might of the Yogi.

The Saffron clad Yoga Guru's wealth and social reach gives him the political muscle needed to make the health minister, who by the way is an allopathy doctor himself and current union minister for road transport & highways and the minister of micro, small and medium enterprises in the Government of India; stand in acquiescence on his either side when he publicity unveils 'Crononil' a collection of herbs, untested by any scientific means, as preventive and curative medicine for aliments induced by "Covid-19", a deadly virus that has killed people in excess of 35.2 lacs, globally.

Nothing stops him from selling the 'cure' to Indian consumers.
At this point, you might be thinking how do these 'men of tradition, spirituality and Yoga' make it so big? To understand it we will need to take a little dip in the history of the nexus between politicians and "Babas and Gurus'.
PM Indira Gandhi, daughter of the man, who professed scientific temper; in her days of power had Dhirendra Brahmachari as her Yoga Guru. He used to be just as powerful then, as our Ramdev is now.

Spiritual guru Chandraswami provided mentorship to PM PV Narasimha Rao. Stories of his influence are part of folklore in the southern part of the country.

PM Modi is known to be close to Ramdev and many like him, some of his favourite people are also currently serving jail terms for heinous sexual crimes.
I have listed three PMs here but if you dig a little you'd find that over 90% of elected CMs too have some or the other affiliations with one or more 'men of faith'.
The unholy alliance between power, politics and these 'Godmen' is not hard to understand, these men have a huge following, running in several lacs. They wield enormous influence over their followers who willingly let these godmen tell them who they should vote for. Politicians naturally have an affinity for these people.
It may be ill-omened that the Government led by PM Modi allows flimflammers like Ramdev to defame the authentic and scientific line of treatment and even speak disloyally of the effectiveness of vaccines when seen from the vantage point of governance and public health and safety but we will need to concede that its political dividends are enormous. And perhaps that is why, he is allowed to rage and rave, as he wishes. The monk who can buy a Ferrari and much else said and I quote, "What can the doctors do, they could not save themselves,1000 of them died despite taking double doses of the vaccine". Would such a comment not add to already grave vaccine hesitancy in the hinterland of India, you be the judge of that. The government chooses to not intervene with the penal action, no prizes for guessing why.
Politics is a field in which genius moves are often cacodemonic in character. I would like to call your attention to the brilliance of the timing of Ramdev's attack which is no less crafty, in the unit of malevolence with which politics measures itself. You might wonder why am I saying such a thing? Let me uncover the bigger act in play here for you.
The peak at least in official numbers for the 2nd Covid-19 wave seems to have passed now in India, with daily caseload reduced to nearly ½ of what it used to be at the peak a few weeks ago. The public attention had started shifting from delinquencies in the cure (Oxygen, beds, ventilator, meds and medical staff) to deficiencies in prevention (vaccine). The number one conversation currently running on the minds of people is vaccines or lack of it. People have understood, by and large, that there is no alternative to getting inoculated when it comes to meeting the challenge that the virus and its many variants in circulation pose. PM Modi's preoccupation with elections, disdain for the advice of the scientific community, contempt for knowledge and ill-informed bravado came in the way of his administration procuring the number of doses needed to protect the Indian people. As a result, India is experiencing a vaccine drought, of sorts. The mammoth gap between supply and demand, as can be seen in the attached numbers which are a testimony to dwindling rate of vaccination in India.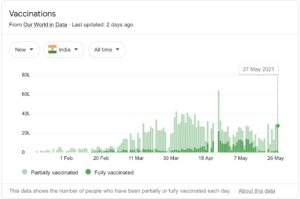 The administration leaves a lot to be desired for and it does not want the public to understand, acknowledge and discuss its many failures. If there is one thing that PM Modi is concerned about then it is his own image. Recently, BJP's president joined PM Modi and RSS members to brainstorm ways of recovering from the dent in the image of his leadership, the performance of his government and particularly the mess in UP. The meeting ended with BJP National president, Nadda making a public appeal to the party workers and elected representatives to become 'more visible'. They understand that the truth is out there and people are taking note of it.
The government desperately wants the nation to look the other way, so it in its masterstroke has expertly manufactured a number of controversies to completely hog the headlines of the newspapers, discussions in prime time and by extension the attention of the people.
They have effectively fashioned a dispute at the peaceful arcepalogo of Lakshadweep. Twitter trends are abuzz and the national media has been forced to turn its gaze to the disturbance that Modi's trusted BJP party member and currently the administrative head of the island, Praful Khoda Patel has created by suggesting to bring in new laws. Including the one to allow alcohol in the island, mind you, it is coming from an ex-minister of the state Gujarat, which has been in prohibition since time immemorial. Some of his other radical ideas are:

Land Development

Beef and Cow slaughter ban by implication, the draft, however, hides direct mention. It must be noted that the BJP is fine with beef-eating in Kerala and the NE.

Goondas act; ability to arrest anyone for a year!!

Ferocious and published feud with Social media giants (Twitter, Facebook and Whatsapp), OTT platforms and digital news organisations. The televised theatre of sending Delhi Police over to Twitter's headquarters in India and several letters being written to Whatsapp have all been timed to coincide with the crisis so that the shortcoming of the Government on the handling of the 2nd wave gets drowned in the noise of these issues.

Whilst at the Whatsapp topic, you must know that neither parties are fighting for the interest of the users. Whatsapp wants to send metadata freely to Facebook to strengthen its advertisement business and also employ mountains of data for future product creation. The government wants Facebook to break 'end to end encryption in the cover of identifying the original originator of a 'fake message'. Many believe that Modi Govt will use the access to clamp down on free speech. Triangulate and bring down posts criticizing the Government, as it has done several times in the recent past, particularly with farm bill protests and the Covid related posts exposing failing of the GOI.
The BJP knows that when these measures are announced there is going to be a widespread protest, noise and chaos. It not only understands and estimates but also anticipates groundswell in opposition to these measures, coming from all directions – and that is exactly what it wants. So that the nation does not find time and attention to focus on the sparsity of vaccines, hiding of deaths and massive undercounting of infections, prominently. With the mess hidden those responsible for it will also get an opportunity to distance themselves from it.
Like it or not, it is indeed a political masterstroke.
Fight with the Social Media companies, Socio-political disturbances in Lakshadweep and Baba Ramdev's deplorable, injudicious and irresponsible remarks together provide the best cover that PM Modi and his associates can ask for and create at this point in time. They have succeeded thus far in shaping the national narrative. Whether they continue to march ahead unchallenged and undefeated in the future or not, will depend on how much attention we the people give to what issue? People will need to decide to not get distracted from the number one issue of the day, which is 'vaccination of a billion people'- nothing that they throw our way will break our resolve.
We got to use the currency of our attention, judiciously.
Let's unite in demanding accountability for mismanagement of the pandemic and above all for the quickest possible vaccination for all, not just those who can afford to buy their way out of the pandemic.
Till then take care, goodbye!